Naples Florida Real Estate
Posted: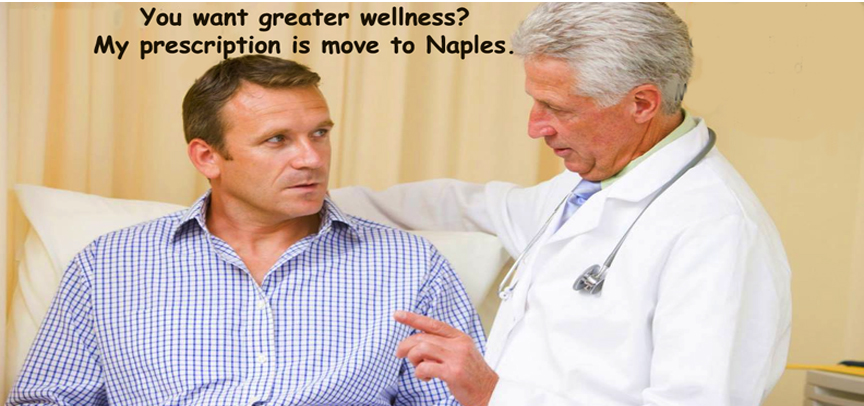 Naples Florida real estate will continue to spur demand from home buyers and investors given recent news headlines of our community's record-setting status as America's healthiest and happiest city.
Remarkably, for the third year in a row, Naples outscored all other
metropolitan areas throughout America following research conducted in conjunction with the Gallup-Sharecare Well-Being Index.  In fact, during the ten year duration that this annual well-being research has taken place, Naples is THE ONLY community to garner such multiple years of recognition. The study assesses the following factors:
Purpose – How do residents enjoy what they do each day and how motivated are they to achieve specific goals
Social – How do residents feel in terms of having both supportive and loving relationships in their lives.
Financial – How manageable are economic conditions as it relates to reduced stress or financial security
Community – How do respondents feel overall about where they live; the extent to which they feel safe and feel pride in their community
Physical – How do residents regard their health and do they possess the energy, physical wherewithal to do things each day.
Of course, it really is easy to understand why responses in Naples tend to be so favorable. Our above average days of sunny weather enable the constant opportunity to enjoy outdoor recreational activities in tennis, strolls along the beach, and play among the finest golf fairways in the world. We have beautiful beaches, clean air, incredible shopping, dining and entertainment in the arts. Our community is free of the crime rates that plague some metropolitan areas, and many here are very active in their churches, philanthropic endeavors, or not-for-profit institutions striving to make a beneficial difference in the lives of others. This is truly a special place, and no doubt, given this bit of national recognition, there will be continued interest in Naples Florida real estate.
Should you have any questions involving Naples Florida real estate, please don't hesitate to contact me by simply submitting the form below.  I can prescribe a variety of residential enclaves that'll help keep you healthy, and happy! 
Current Naples Florida Real Estate for Sale
Courtesy of Marzucco Real Estate

Courtesy of Coldwell Banker Realty

Courtesy of Marzucco Real Estate

Courtesy of Local Real Estate LLC

Courtesy of John R Wood Properties

Courtesy of Islandwalk Realty Inc

Courtesy of Premier Sotheby's Int'l Realty

Courtesy of Premiere Plus Realty Co.

Courtesy of Downing Frye Realty Inc.

Courtesy of Premier Sotheby's Int'l Realty

Courtesy of John R. Wood Properties

Courtesy of Premier Sotheby's Int'l Realty